Today, August 1 you can start to order from the new Catalog!!
Be sure to check it out... it has over 250 new products!
A year-long book replaces the twice-annual smaller publications. This one is packed
with 193 pages, including 250+ brand new products. There are five new colors introduced this year, each with its own bulk paper pack and complementing Exclusive Ink Pad.
And isn't the August Stamp of the Month the cutest???
It is called
What a Hoot!
And as always, it is just $5 with a minimum $50 order (also available at full price without a minimum).
$19.75
S1408 or $5 with a $50 order!!
Another new product is the
ShinHan Touch Twin Markers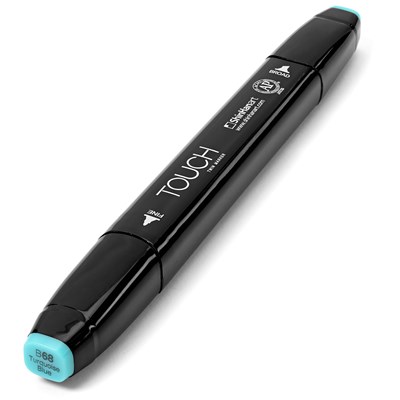 $6.50
Z2465
These markers are amazing!
You can do so much with alcohol markers (now you may have heard about Copic markers? these are the SAME top of the line quality that comes from those- just a better price point).
CTMH will be carrying 24 of these markers and YES they are refillable (if you ever need to refill them).
So, what can these markers do?
Alcohol markers are fast drying- colour embellishments (like the stars and sequins shown below from another CTMH rep who already started playing with the markers) and the colour stays!
Alcohol markers blend beautifully- you won't see stroke marks when colouring with these!
The colours are bright and long-lasting.
You can blend the colours together to get a truly lovely look (and CTMH has a colourless blender that helps achieve a blended look).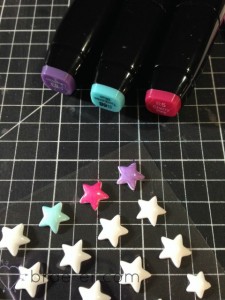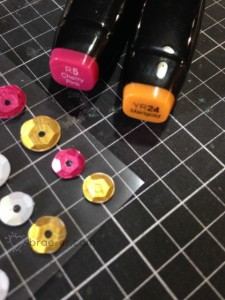 One of the other consultants that tried out these markers said:
Not only do they sit in my hand nicely (they are ergonomically designed) but they are so smooth! The other thing I immediately noticed- there is NO NASTY SMELL! Some alcohol markers make my head swim with the smell they give off but these ones don't!
For those that would like to select a color to match the current CTMH colors, here is a comparison chart.
And here is a color wheel with all the CTMH colors including the 5 new colors!
5 New Colors
for
CTMH
in
2014
Flaxen, Thistle, Canary, Glacier, Pixie
CTMH is also introducing new cardmaking kits called "Cut Above" which each comes with almost everything you need to create 10 beautiful cards or treat bags. You'll also find new "Designer Creations" -- button bags, cupcake boxes, a takeout box and printed paper bags. There are dozens of adorable new stamp sets made from the industry's finest photopolymer called "My Acrylix", including new exclusive-to-Hostesses sets, Stamps of the Month and specialty stamp sets in CTMH's "Workshops on the Go."
And if that wasn't enough info....there is a brand new
Close To My Heart/Cricut cartridge
coming in this catalog. It's not yet available (ProvoCraft has some production delays) so I'm waiting much as you are to get my hands on this amazing cartridge....CTMH has let us know it should be available in September 2014!
Let me tell you, it is the answer to this cardmaker's dreams!!!
The new-for-2014 cartridge is called "Artfully Sent." With more than 700 images on this completely designed cartridge, the value is immense. Here's what theInspirations Book says about this cartridge:
"Cardmaking has never been easier or more fun! With our newest Cricut collection you can make handmade masterpieces in no time at all. Choose from cards with sentiments cut directly into them, or combine several cutouts to create your own pop-up scenes. Featuring more than 25 different card themes and 5 different card formats including dynamic interactive designs, this cartridge has a card for any and all occasions -- even if the occasion is "just because"! Card styles include pop-ups, scenes, sentiments, sleeves and pocket cards.
Now let's take a look at everything your $99 investment in this new cartridge will get you:
1 Cricut Cartridge (700 images; cards and font)
3 (that's right, THREE!) My Acrylix D-size stamp sets (value $17.95 each!)
1 pack of 12x12" CTMH White Cardstock (a $9.50 value!)
Let me give you a sneak peek at just one of the really fabulous cards you can make with this cartridge. This is one that's shown in the Inspirations Book, as an example:
Another great CTMH consultant found this screen shot of what the cartridge's book looks like to find this pop-up balloon image:
See it there, in the "Pop Ups" icon, top (red)? YES, Cricut cuts out the center of the card, and you just adhere it to your cover -- voila, you're a pop-up card artist!! Add the cute banner ... or use it on other cards, scrapbook pages, etc. ... and you've got a darling card.
And yes, you can even use it in Cricut Craft Room (for the Expression) or Cricut Design Room (with your Explore). Look here:
How easy-peasy is that?! I'm telling you, I've never been more excited about a Cricut/CTMH cartridge as I am about the pending arrival of "Artfully Sent."
Here is Close To My Heart's video about this fantastic new cartridge
Now, we're all prevented from "pre-selling" this Cricut cartridge because, frankly, there are many top-sellers who have been undercutting us little guys. But I CAN take your name and e-mail address if you're interested in being the first on your block to order it from me as soon as it's available.